Marketo Engage: World-Leading Enterprise Level Marketing Automation
Marketo is a unified software-as-a-service (Saas) platform you can use to keep your finger on the pulse of your customer, power personalised and authentic conversations at scale, and build lasting relationships. It's reliable, secure and scales to meet the demands of the largest global enterprises. It's built from the ground up to be open, so it can fit with existing or planned technology systems and gives you freedom with your data.
Marketing Automation
Account Based Web Marketing
Intelligent Nurturing
Email & Mobile Marketing
Digital Ads
Web Personalisation
Landing Pages and Forms
Events and Webinars
Social Marketing
Customer Database & Segmentation

Customer Nurturing
Customer Scoring
Marketing & Revenue Analytics
ContentAI
Marketo Sales Engage
CRM Integration
Sales Intelligence
Customer Journey Modeller
Campaign Dashboard and Reports
Marketing Calendar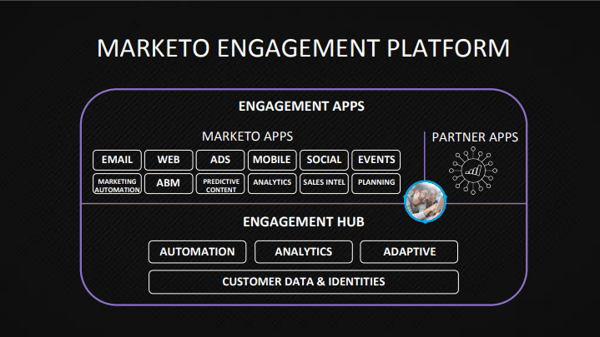 Marketo's marketing engagement platform has become a favourite of top analyst firms like Gartner and Forrester, as well as more than 6,000 customers across the world. Some of our notable customer brands include Microsoft, General Electric, Panasonic, and Uber. Within the NZ Market, there are well over 50+ implementation of Marketo delivering personalised customer engagement solutions.
Although these customers' organisations are very different, they all recognise one important thing: that in today's world the relationships between customers and brands have fundamentally changed. Customers are moving freely across many channels expecting brands to deliver a meaningful & personalised experience at every touchpoint. Marketo helps brands build customer relationships by cloning to customer behaviours across all of your marketing (and data) channels, learn what each individual wants and engage your customer intelligently wherever they are.
Marketo is an open platform solution and can integrate with existing systems and data sources. Marketo is a third-party SaaS platform that uses standard data integrations to support the sharing of information between systems. With an open API architecture, Marketo can combine first, second and third party data across known and anonymous customers for precise targeting and tracking of offers and experiences.
Why you should consider Marketo for your business
There are many different customers, due to different demographics and they are utilising various sources of information. They are influenced by different channels, technology, social trends and a lack of customer understanding makes it difficult for us to meet the needs of our prospects effectively.

If we don't meet those needs, our customers will go elsewhere. Customers are less loyal and far less trusting than they used to be and social media has given them the power to rethink their purchase decisions. So, if we don't understand them how can we possibly deliver the types of experiences they expect?

We must better align ourselves to meet the needs of our buyers. As such, we are looking for new ways to improve our internal processes and implement new technology solutions, like CRM and Marketing Automation tools to better service these buyers.