What is CRM? And how does it drive
result for my business?
Raise your hand if you've ever used an Excel spreadsheet to keep track of your new business program. Although we do love spreadsheets, we know that approach won't keep you afloat for long.
So, let's start at the beginning …
What is a CRM?
CRM stand for customer relationship management, and it refers to software that helps companies track interactions with their future and current customers.
The goal of implementing a CRM is to create a system that your sales and marketing teams can use to more efficiently and effectively interact with prospects or customers.
Marketing will often use a CRM to ensure that they're passing the right leads to their sales team -- a key aspect of developing a strong relationship with the sales team.
Salespeople utilize the CRM in a different way. They use it to source prospective customers, communicate with them, and track their interactions over time. Having the entire prospect history in one place increases their efficiency and improves their productivity. For instance, salespeople using a CRM won't have to hunt through their email to remember where a conversation left off.
In this day and age, using a customer relationship management tool (CRM) effectively can be instrumental in helping your business grow.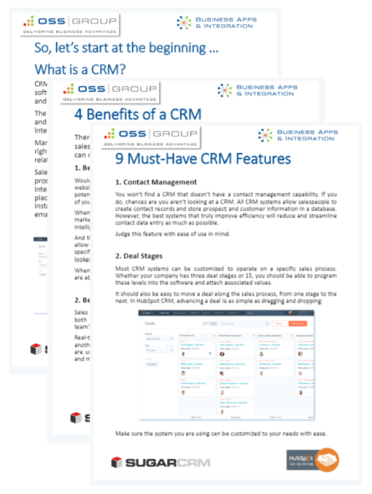 In this guide, you'll learn:
how companies benefit from using a CRM,
what questions to ask when looking into CRM tools,
and the features to look for in a solution.
We hope this ebook helps you think about ways to create a sustainable new business platform for your business.
Download the guide today to learn more about how to use a CRM to drive results for your business!